Did you know? With every 1" of rain on 1,000 square feet of roof area you can collect around 600 gallons of water! Put your roof and guttering system to work and start harvesting water now.
Need help getting started?
Complete Rainwater Catchment Assessment- $149.00*
Schedule your Rainwater Catchment Assessment now
What you get: A comprehensive overview of onsite conditions to develop a water harvesting plan for your property which includes:
Onsite evaluation by an ARCSA Accredited Professional (AP)
Inspection of the roof plane drainage
Calculation of potential water harvesting capacity
Design a water harvesting system to meet your properties present and potential watering needs
Provide a plan for future growth
*For buildings under 2,800 sq. feet, or those requiring a 3 story ladder.
Our Bushman water tanks start at $436.50 for a 205 gallon tank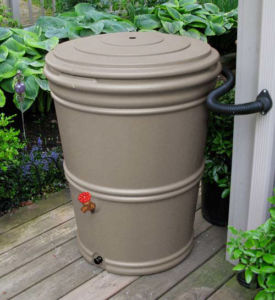 Bushman 60 gallon rain barrel
http://bushmanusa.com/60-gallon-rain-barrel
Comes in three different color options!
– Taupe
– Terracotta
– Dark Moss