Radiant Barriers
There are a lot of applications for radiant barrier on a building. When re-roofing in the Sacramento area, there are 2 applications that can be used as a prescriptive measure to meet the Title 24 energy efficiency requirement. Radiant barrier in the attic or on the roof deck.
Low-E Therma-Sheet insulation has 99% pure polished aluminum facings. The facings are heat laminated to a closed cell polyethylene foam core. It is installed over top of traditional felt paper or other underlayments. Therma-Sheet provides excellent thermal and moisture protection under metal roofing, stone coated steel, concrete or clay tile. It can also be used under asphalt singles, but the reflective qualities will not be utilized. However, the foam core will create a thermal block and significantly reduce summer heat gain and winter heat loss in the attic.
Radiant barrier that is installed directly to the roof deck before the actual roofing material is installed. It acts as an insulator, helping to minimize heat transfer coming into the attic space, as well as a moisture barrier. Used alongside a properly balanced intake and exhaust system of air ventilation, this helps your roof become an effective tool to reduce air conditioning costs as well as keep your roof in good condition. This is not a common prescriptive measure to use when meeting Title 24 energy efficiency requirements.
Among other applications, this Low-E product, ESP Micro-E® is most commonly used to insulate the underside of roof rafters. It is manufactured using reinforced aluminum facings on both sides and is only 1/8" thick. This is a very costly procedure so it is usually not used as a prescriptive measure to meet Title 24 energy efficiency requirements.
Some other common applications include vapor barrier/insulation installed behind interior drywall, crawl space insulation and flooring underlayment.
Radiant barrier installed on the garage door is a great way to cut down heat gain. This makes a big difference especially when the garage door is facing the west.
Download this brochure to see how it works
How Does LOW-E Reflective Insulation Work?
Insulation
Insulation on the attic floor is essential to reduce heat gain in hot weather and cold in winter months. When re-roofing, one prescriptive measure that will meet Title 24, part 6 requirements is to apply or upgrade attic insulation to an R38 value. Your attic probably already has insulation with at least an R19 value. Additional insulation can be added to achieve the R38 value.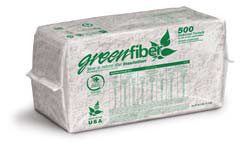 Insulation is typically blown in using a fiberglass product. Fiberglas insulation has less settling issues and is a lot less dusty then cellulose. However if you prefer to have cellulose, in most cases we will use a product called GreenFiber. This is a natural fiber cellulose insulation that consists of 85% recycled paper, mostly recovered, from post- consumer paper fiber that contains additives for fire resistance. GreenFiber insulation is not manufactured with formaldehyde or asbestos. It also is not made with textile, fiberglass, mineral wool or other fibers. It is manufactured in the US.
View the GreenFiber Insulation website to learn more!