The ACS Roofing Team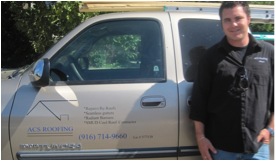 We are a family owned and operated business with a reputation of trust and honesty that has been extended to customers, employees and vendors alike. Our commitment to customers is complete satisfaction with the highest quality of materials and workmanship available. We put in writing everything we will be doing and constantly review each project for any updates. Our commitment to higher standards carries through to our employees. All of our installers are certified. We have put a great team in place so that all aspects of our work runs smoothly.

Mark Tate, Owner
Mark has been working in construction and roofing for over 40 years.  He saw the need for a higher quality of workmanship in the industry and thus began his own business.  Since then he has developed a keen sense for customer satisfaction and professionalism. Mark is licensed as a General Building Contractor and Roofing Contractor.  He has had extensive training on building science principles for Home Performance Contractors through the Building Performance Institute.  This is a major advantage for doing any kind of retrofitting or inspections.  In his quest for accuracy within the roofing industry, Mark became a Certified Tile Roofing Institute Installer and a Certified Haag Roofing Inspector in both Residential and Wind Damage.  His concern for the conservation of natural resources, water in particular, has led him to become a member and Accredited Professional of ARCSA, (American Rainwater Catchment Systems Association).  Mark has truly raised the bar of roofing practices.
Amos Tate, Operations Manager 
Amos has worked with ACS Roofing since its beginning. He has years of experience in the construction industry, and has worked in several trades such as framing, sheer wall, and concrete. As a former supervisor at UPS he knows the importance of blending customer service and production in a timely manner. He takes great pride in the quality of his work and is committed to satisfy every customer.
Mark / AKA "Doc"
Doc is our Front Office Technician, and most customer's first point of contact with our company. Among many other tasks, he answers our phones and takes appointments. Doc has excellent customer service skills, and carefully and patiently listens to each customers concerns, in order to fully understand their needs and give them a personalized appointment with our Inspector. He is a great guy to work with, and he is invaluable to our team!
Ken Ficht, Foreman and Journeyman Installer and Repair Technician CertainTeed Single Quality Specialist
Ken has also loyally worked with our company since the beginning. He has over 30 years of experience working in the roofing industry, and his quality craftsmanship is a testament to that. Our company's higher standards of quality are evident in the hard work of this roofing professional. He often works as a team with his son Kenny Jr.
Kenny Jr., Journeyman Installer, Repair Technician-CertainTeed Shingle Quality Specialist
Kenny Jr. has been with the company for 8 years and around roofing all his life. Growing up and working with his father, he has developed into an extremely productive installer and skillful repair technician. He is known for his fine manners and respectfulness to customers.
Pamela
Member of the family owned business since 2010, she fills the dual positions of Payroll Officer and Office Technician. Her first and foremost goal is to help and serve our customers, answering any and all questions. Her genuine concern for others has led her to develop and implement a company safety program to ensure that no one gets hurt while doing the dangerous work of roofing on your home. Excellence is what drives her to work hard as a member of the ACS Roofing Company Inc. family team.
Renee
A crucial part of the ACS team, she manages the front office with efficiency and care. Her job as our bookkeeper is to update and maintain our accounts which she does with precision. Doing this is key to having the company running smoothly. Do you have any outstanding invoices or questions about your bill? Call our office and ask for Renee, she will kindly help you settle all bills.
Bill McDonnell, Gutter Installer
Bill has been working around gutters since he was 16 and is an expert when it comes to installing gutter systems. He has a reputation for providing excellent finished products and we are privileged to have him as a part of our team.
Doug Mouser, Journeyman Carpenter
Doug is an expert journeyman carpenter. He has many years of building experience. He is honest, loyal, hard-working, and is also a fluent Portuguese speaker.
Todd, Drywall Repair & Painter
Todd is our go to guy for all drywall repair and painting. He is noted for being extremely clean while in occupied homes and his work will amaze you.
Scotty the Dog
Scotty started with ACS by wondering on the property of the office one day as a lost puppy. We have adopted him as part of the ACS team. He is loyal to our company, working 7 days a week from dusk till dawn. His listening skills and calming presence makes him an integral part of ACS Roofing.
Membership and Certifications