The 5 Preliminary Steps To A New Roof
Start the re-roofing process by going over these 5 basic steps. Step 1 and 2 can be done simultaneously. Once these steps are complete, then get ready for the old roof to come off and the new one to come on. Watch the video on this page to see what this involves.
Step 1: Choose a Color and Profile
The top manufacturers of each roof type is provided below with a link to their site for color and profile information.
Asphalt Composition Roofs
Asphalt shingles are the most commonly used roofing material in the United States. They are the least expensive when compared to the cost of metal, wood, slate, concrete or clay tile. Maintenance is easier and there is generally less repairs required then on other roof materials.
Tile Roofs
Clay and concrete tile roofs are very fire resistant. Clay tile can cost 30 to 50 percent more than concrete. Concrete tile comes in lightweight or standard weight with the latter weighing up to twice as much. Lightweight tile is installed when the structure cannot bear the weight of standard, will cost more and is harder to maintain.
Flat Roofs
Flat roof replacement will cost less than pitched roofs. When replacing a flat or low slope roof, we typically use products from IB Roof Systems. This is a PVC (Polyvinyl Chloride) single-ply membrane. Single-ply membranes are the most popular flat roofing materials used for residential and commercial roofing.
Step 2: Choose a Title 24 compliance option
Title 24-part 6 is California's Energy Efficiency Code. When re-roofing your home in climate zones 10-15, you will need to adhere to certain requirements as set forth in this code. Compliance can be met by choosing at least one of the following options.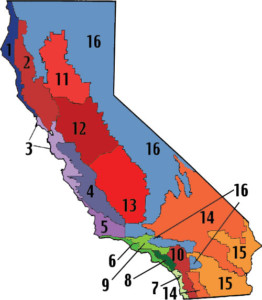 Option 1 – Install an asphalt composition Cool Roof.
– learn more about Cool Roofs
Option 2 – Install a Tile Roof with approved profile or color.
– view the Boral Tile and Eagle Tile pages
Option 3 – R-38 Insulation in the Attic
– learn more about Insulation
Option 4 – Radiant Barrier in the Attic or on roof deck.
– learn more about Radiant Barriers
Option 5 – Create an air space of 1" inch between the top of the roof deck to the bottom of the roofing product.
Option 6 – Insulate and Seal Duct Work
– Existing duck work is insulated and sealed according to section 150 (c)9 (Hire a HVAC contractor).
Step 3: Choose Gutters
Seamless gutters have been around for more than 40 years and are the most common gutter choice. With seamless gutters there is rarely any leaking. These gutters are formed at your home using a seamless gutter machine. Our seamless gutters have a baked-on finish both inside and out.
There are many profiles of gutters to choose from, the most common are Fascia and OG.
Step 4: Check out the following roof related additions.
Sun Tunnels and Skylights
Sun tunnels and skylights replace or reduce the need for artificial lighting and provides an economical approach to bringing the benefits of natural light into any area of the home. A good time to add them is when re-roofing.
– read more about the benefits of Sun Tunnels and Skylights
Whole House Fans
In climate zones 8-14, Title 24 requires new residential construction to include the installation of a whole house fan which must be listed in the California Energy Commission Appliance Efficiency Directory. Although Title 24 does not require re-roofs to be retrofitted with a whole house fan, this is a perfect time to have one installed.
– read more about the benefits of Whole house fans
Vents and Attic Fans
Both intake and exhaust vents are key components to achieving a balanced attic ventilation system. Also, attic fans are used to exhaust hot air and moisture build up, a contributer to leaks, insulation damage, dry rot, mold and fungus growth. Usually, your new roof will need additional ventilation to meet the shingle manufacturer's requirements.
– read more about the benefits of attic fans and eave vents
Water Tanks
With every 1" of rain on 1,000 square feet of roof area you can collect around 600 gallons of water! Put your roof and guttering system to work and start harvesting water now.
– read more about the benefits of water tanks
Awnings
One way to cut down heat gain is with the use of awnings. This works especially well for windows facing the west side of the house where there is no shade in the hot afternoon hours. We can custom build awnings with the same roofing material as your roof or use something more decorative. Contact ACS Roofing to learn more about the benefits of Awnings and the options avilable.
To keep track of your 5 step re-roofing process, ask us to email you our Re-Roofing Worksheet guide.
Replacing Your Shake Roof – Things you will want to know
Replacing your shake roof, what to expect. This video will take you through the entire process of re-roofing a wood shake roof. From tearing off the old roof, installation of underlayment, flashings, ventilation and shingle quality.