Silver Streak
A Superior Water Filtration System with Infinite Benefits
If you're looking for a truly superior water filtration system that is effective, environmentally friendly, and that will save you time and money, the Silver Streak is your answer.

$199 + tax. Please call our office at 916-714-9660 to learn more and reserve your unit today!
Features:
Its effective filtration system is so efficient that it accepts water from floods, lakes, rain, wells, tap, rivers or streams, allowing you to be self-sufficient in natural disasters or emergencies.

The Silver Streak is not only a perfect solution for everyday usage, but also provides a clean water supply during epidemics, natural disasters, or other emergencies. For that reason, it has become a "Prepper" must have.

Perfect for everyday personal use. Filters approx. 12-14 gallons of water per day.

Made with 304 grade stainless steel.

Assembled unit stands 17 inches in height, fits on countertop.

Filters out 99.99% of bacteria including E. Coli, and cholera. Reduces viruses and most chemicals, including chlorine, fluoride and arsenic.

Included with the Silver Streak is a USA Made 0.2 micron ceramic replaceable filter that will last 2 years, a spigot, siphon tube and a cleaning pad.
Why is The Silver Streak Superior to Other Filters?
Traditional filtered water at grocery stores usually uses reverse osmosis, which filters out most of the beneficial minerals in water. This demineralized water deprives our bodies of vital nutrients and causes a ph imbalance. If you're using a basic Brita Filter, you are only filtering out the taste and odor of Chlorine; nothing else. Any other chemicals, viruses, or bacteria (such as lead or E. Coli) are left in your water. Some of Brita higher end filters might remove a few more metals, but not much more. None come close to what The Silver Streak's filter does. Its ceramic filter removes 99.999% of bacteria and Cholera. It also reduces Arsenic, and Fluoride, as well as other chemicals. The unit is also made of durable Stainless steel that will not leach plastic toxins into your water, such as with traditional kitchen filters. Thus, the entire unit of the Silver Streak, both its filter and body, is superior to any other traditional water filtration system.
What Else Makes the Silver Streak Superior?
Proven Test Results: Laboratory tested from independent labs, including FDA Registered Laboratories proving its effectiveness.

Maintenance: Easy to maintain, only requiring light cleaning every now and then. The ceramic filter will last 2 years.

Looks and Size: Stainless steel offers a smooth and modern look. It also easily fits on a kitchen shelf or countertop.

Saves Money: The Silver Streak eliminates the need to buy expensive filtered water from a delivery service or grocery stores.

Time Saving: You will save time buying water because you will have gallons of clean water available at your home, whenever you need it. You will never run out of clean water!

Emergency Preparedness: Most households don't have enough water supply at home to support their household in emergency situations.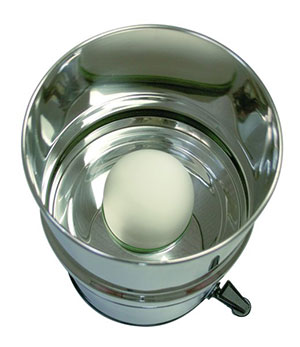 Silver Streak Water Filtration System
$199 + tax (Final price - $214.42). Please call our office at 916-714-9660 to arrange a time to pick it up. Local pickup only, no shipping.
$214.42