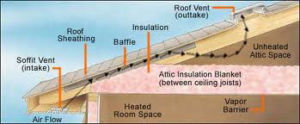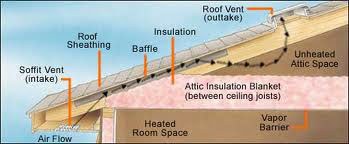 Having a balanced attic ventilation system with properly installed insulation will provide optimum results for cooling, heating and moisture control of a home. The results are a more comfortable living area using less energy and a healthier air quality both in the living area and attic.
Learn how you can achieve a balanced attic ventilation system for your own home.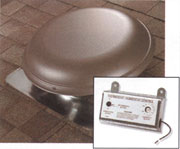 Both intake and exhaust vents are key components to achieving a balanced attic ventilation system. Also, attic fans are used to exhaust hot air and moisture build up, a contributor to leaks, insulation damage, dry rot, mold and fungus growth.
Learn more about the use of Vents and Attics Fans for your own home.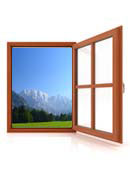 The cool Delta breeze we get in the Sacramento area is perfect for a whole house fan, probably why they are required for new construction in climate zones 8-14. Airscape whole house fans are not only Title 24 compliant, they are top of the line for energy efficiency and Leed certification.
Learn about the convenience and benefits of Whole House Fans.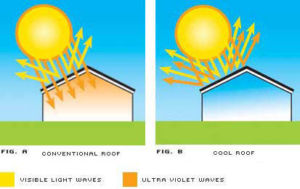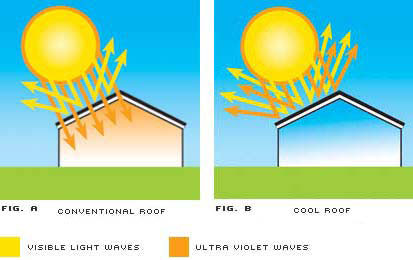 Cut your cooling costs by 20 percent. Extend the life of your air conditioning system and your roof. See why roof color matters. Find out why there is such a big push for cool roofing.
Learn how a Cool Roof helps to keep your home cool and saves you money.
Radiant Barriers and Insulation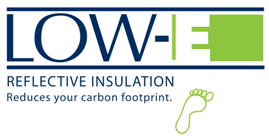 There are a lot of applications for radiant barrier on a building. When re-roofing in the Sacramento area, there are 2 applications that can be used as a prescriptive measure to meet the Title 24 energy efficiency requirement. Radiant barrier in the attic or on the roof deck.
Low-E Therma-Sheet insulation has 99% pure polished aluminum facings. The facings are heat laminated to a closed cell polyethylene foam core. It is installed over top of traditional felt paper or other underlayments. Therma-Sheet provides excellent thermal and moisture protection under metal roofing, stone coated steel, concrete or clay tile. It can also be used under asphalt singles, but the reflective qualities will not be utilized. However, the foam core will create a thermal block and significantly reduce summer heat gain and winter heat loss in the attic.
Learn how a Radiant Barriers and Insulation work to keep your home cool.