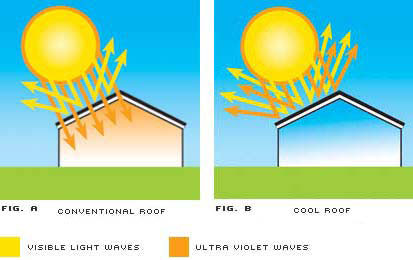 When you have a new roof installed on your home it will need to meet California's building efficiency standards as outlined in Title 26, part 6. A Cool Roof is a highly recommended way to meet this requirement.
Cool Roofs reflect solar energy and discharge stored heat. So they have both high reflectivity and high emissivity. Compared to standard roof surfaces, Cool Roofs stay 50 degrees to 60 degrees cooler on hot summer days and that keeps cooling costs down. Watch this SMUD video to learn more.
Here are some Energy Star rated composition shingle Cool Roof colors to choose from:
– click images for larger view


Save money
Save an average of 20 percent on future air conditioning costs with SMUD's innovative Cool Roof program. Help reduce SMUD's electricity peak demand and air conditioning energy load and mitigate the overall urban heat island effect in the Sacramento area.
The Cool Roof program provides an incentive to homeowners of 20 cents per square foot for flat roofs, and 10 cents per square foot of steep slope roofs. Contractors must install products that meet SMUD's solar reflectivity and emissivity standards. They are:
Flat roofs:
Reflectivity greater than 75 percent
 Emissivity greater than 75 percent
Steep slope roofs:
Reflectivity greater than 40 percent
Emissivity greater than 75 percent