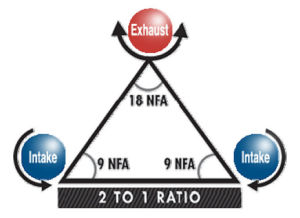 Having a balanced attic ventilation system with properly installed insulation will provide optimum results for cooling, heating and moisture control of a home. The results are a more comfortable living area using less energy and a healthier air quality both in the living area and attic.
How can you achieve a balanced attic ventilation system for your home? Contact our office to schedule the Attic Ventilation Assessment for $189.00.
Attic Ventilation Assessment
What is the Attic Ventilation Assessment and why do I need it?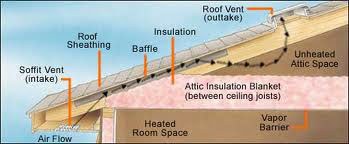 A comprehensive inspection of the roof, eaves, and attic area to determine adequacy of current intake & exhaust ventilation system along with measuring for R-value of the existing insulation.
Includes:
Measurements of entire roof sections to determine square footage of the attic space necessary to perform energy calculations.
Locate and document all intake and exhaust vents. Check for obstructions.
Inspect eave areas for proper intake ventilation and to see if existing eave/soffit vents are baffled properly.
Inspect attic space to determine existing R-value of insulation. Inspect insulation placement to see if covered properly and not obstructing airflow.
A plan to bring the home up to current energy efficient standards or better with options to include solar attic fans, gable attic fans, ridge vents, additional screened eave vents, a whole house fan and more. (Plan is based on building science principles, California Title 24 calculations and ventilation formulas to achieve correct ratios).
This assessment is strongly recommended:
Before you purchase a whole house fan. Most whole house fan manufactures require a certain amount of exhaust ventilation for their fans to run optimally and to have the warranty in full effect. The amount depends on the CFM capacity of the fan.
Before you purchase a new HVAC system.
Before you purchase attic or gable attic fans. These should be balanced with intake vents.
Before you purchase insulation.
Before you purchase wind turbines. These should be balanced with intake vents.
When a home has uneven cooling, for example some rooms in your home are hotter than others in the summer and colder in the winter.
To realize the potential energy savings of your home, start by calling 916-714-9660 to set up an appointment for your Attic Ventilation Assessment. The $189.00 fee can be applied to any vent or whole house fan installation by our company.
FAQs: About Ventilation
Why do I need an effective attic ventilation system?
A balanced attic ventilation system will provide added comfort to the living space, help protect against damage to materials and structure, and help reduce energy consumption-during all our seasons of the year.
During warmer months, ventilation helps to keep attics cool, thus a cooler living space.
During colder months, ventilation reduces moisture to help keep attics dry. This reduces mold growth and helps prevent ice/dams, a cause of roof damage.
How do I know how much ventilation my attic needs and actually has?
The amount of attic ventilation needed is determined by using the 1 in 300 rule. Square footage of the attic divided by 300 =NFA/net free area or the amount of ventilation needed.
The NFA is measured by totaling all intake and exhaust venting. Keep In mind that obstructions to the openings of vents such as screens and louvers will reduce the net free area so it is important to check with the manufacturers NFA statement for each product.
What are Building Science Principles?
"Building science is a field of knowledge that draws upon physics, chemistry, engineering, architecture, and the life sciences. Understanding the physical behavior of the building as a system and how this impacts energy efficiency, durability, comfort and indoor air quality is essential to innovating high-performance buildings. Modern building science attempts to work with models of the building as a system, and to apply empirical techniques to the effective solution of design problems."-National Institute of Building Sciences
Want to know more about attic ventilation?
Check out this article- Ventilation: Principles and Importance
We are a certified Sacramento Area Sustainable Business. Let us help you with your sustainability goals!